Helping to Leave
24/7 helpline for affected Ukrainians
We help people evacuate from areas of military conflict. Our mission is to keep Ukrainians safe and meet their immediate needs
We help people evacuate from areas of military conflict. Our mission is to keep Ukrainians safe and meet their immediate needs
We help people evacuate from areas of military conflict. Our mission is to keep Ukrainians safe and meet their immediate needs
Our team works around the clock consulting people, supporting them through every step of evacuation, and connecting them with volunteers on the ground who can meet their humanitarian needs.
We cover expenses, answer questions, and where necessary connect people with specialized counselors.
We help Ukrainians affected by war, including those who are forcibly deported to the temporarily occupied territories of Ukraine and to Russia.
How we work
---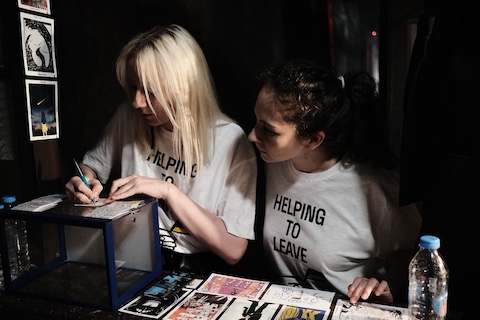 1
We receive requests for help via our Telegram bot.
2
Operators use our up-to-date databases to answer queries. Our team includes Ukrainian, Russian, and English speakers.
3
When necessary, we connect refugees with specialists who can provide medical assistance, information on specific regions, and support for women who were abused or harassed.
4
All new information, and the contacts of drivers and volunteers, is verified by our team of fact-checkers.
5
After the information has been verified, we share it with people seeking help.
6
Sometimes, providing reliable information is enough to help someone get to safety. In other cases, an evacuation can take weeks. We stay in touch with them and help find the resources they need until they're safe.
Donate
By making a donation, you can help us cover the costs of evacuating Ukrainians and support our team's work.
Crypto
Donate with
Donate SOL, ATOM, XTZ or any other coin out of a list of over 140 cryptocurrencies in a highly secure and convenient way. All crypto donations are stored at
WhiteBIT
.
Bitcoin
bc1qjuwwxjtjv247yc9tpj407lusejexkyyppeqa9l
ETH, USDC (ERC20)
0x307CD5c377e2A6b7b3C67a3685B6b663e6217335
USDT (TRC20)
TEAtwDt7dtsRPmDKLphAobcaqLDBPyWRuK
About us
Helping to Leave was launched on February 24th — the day when russia launched its full-scale war against Ukraine
After full-scale invasion in Ukraine, we set up a network of volunteers and the tech infrastructure required to manage information flow. Now, there are 350+ volunteers helping around 1000 people every day.